Operation Nifty Package was a United States Delta and Navy SEAL-operated plan conducted in 1989 designed to capture Panamanian leader Manuel Noriega.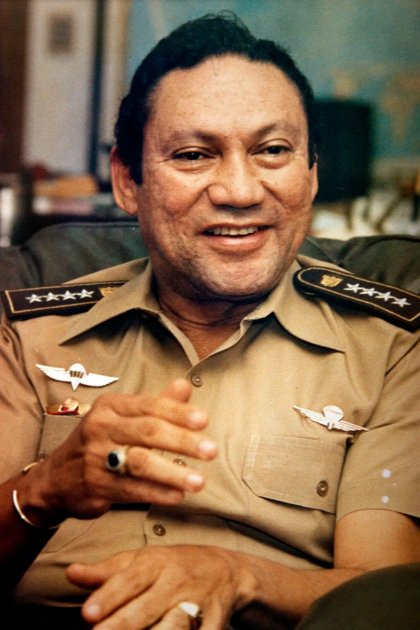 When Noriega took refuge in the Apostolic Nunciature of the Holy See (diplomatic quarter), deafening music and other psychological warfare tactics were used to convince him to exit.

These are the songs , that were used to get fugitive Noriega to surrender himself.
"You've Got Another Thing Coming" - Judas Priest
"You've Got Another Thing Coming"
Judas Priest


"50 Ways to Leave Your Lover" - Paul Simon
"50 Ways to Leave Your Lover"
Paul Simon


"All over but the Cryin' " - The Georgia Satellites
"All over but the Cryin' "
The Georgia Satellites


"All I Want Is You" - U2
"All I Want Is You"
U2


"Big Shot" - Billy Joel
"Big Shot"
Billy Joel


"Blue Collar Man (Long Nights)" - Styx
"Blue Collar Man (Long Nights)"
Styx


"Born to Run" - Bruce Springsteen
"Born to Run"
Bruce Springsteen


"Bring Down the Hammer" - The Georgia Satellites
"Bring Down the Hammer"
The Georgia Satellites


"Change" - Tears For Fears
"Change"
Tears For Fears


"Dancing in the Street" - David Bowie, Mick Jagger
"Dancing in the Street"
David Bowie, Mick Jagger


"Danger Zone" - "Top Gun" Original Soundtrack Kenny Loggins
"Danger Zone"
-Top Gun- Original Soundtrack Kenny Loggins


"Dead Man's Party" - Oingo Boingo
"Dead Man's Party"
Oingo Boingo


"Don't Look Back" - Boston
"Don't Look Back"
Boston


"(Don't Fear) The Reaper" - Blue Öyster Cult
"(Don't Fear) The Reaper"
Blue Öyster Cult


"Don't Close Your Eyes" - Kix
"Don't Close Your Eyes"
Kix


"Feel A Whole Lot Better" - Tom Petty
"Feel A Whole Lot Better"
Tom Petty


"Cry for Freedom" - White Lion
"Cry for Freedom"
White Lion


"Freedom" - Little Steven
"Freedom"
Little Steven


"(Ghost) Riders In the Sky" - The Outlaws
"(Ghost) Riders In the Sky"
The Outlaws


"I'm Gonna Tear Your Playhouse Down" - Paul Young
"I'm Gonna Tear Your Playhouse Down"
Paul Young


"Guilty" - The Jason Bonham Band
"Guilty"
The Jason Bonham Band


"Hang 'em High" - Van Halen
"Hang 'em High"
Van Halen


"Hangin' Tough" - New Kids On The Block
"Hangin' Tough"
New Kids On The Block


"Heaven's On Fire" - KISS
"Heaven's On Fire"
KISS


"Hello It's Me" - Todd Rundgren
"Hello It's Me"
Todd Rundgren


"Helter Skelter" - The Beatles
"Helter Skelter"
The Beatles


"I Fought the Law" - The Bobby Fuller Four
"I Fought the Law"
The Bobby Fuller Four


"If I Had A Rocket Launcher" - Bruce Cockburn
"If I Had A Rocket Launcher"
Bruce Cockburn


"In My Time of Dying" - Led Zeppelin
"In My Time of Dying"
Led Zeppelin


"Iron Man" - Black Sabbath
"Iron Man"
Black Sabbath


"It Keeps You Runnin' " - The Doobie Brothers
"It Keeps You Runnin' "
The Doobie Brothers


"Judgment Day" - Whitesnake
"Judgment Day"
Whitesnake


"Give It Up" - KC and The Sunshine Band
"Give It Up"
KC and The Sunshine Band


"Jungle Love" - Steve Miller Band
"Jungle Love"
Steve Miller Band


"Just Like Jesse James" - Cher
"Just Like Jesse James"
Cher


"Mayor Of Simpleton" - XTC
"Mayor Of Simpleton"
XTC


"Midnight Rider" - Allman Brothers Band
"Midnight Rider"
Allman Brothers Band


"Mr. Blue" - The Fleetwoods
"Mr. Blue"
The Fleetwoods


"Naughty Naughty" - Danger Danger
"Naughty Naughty"
Danger Danger


"Never Gonna Give You Up" - Rick Astley
"Never Gonna Give You Up"
Rick Astley


"Never Tear Us Apart" - INXS
"Never Tear Us Apart"
INXS


"No Particular Place To Go" - Chuck Berry
"No Particular Place To Go"
Chuck Berry


"No More Mr. Nice Guy" - Alice Cooper
"No More Mr. Nice Guy"
Alice Cooper


"No Alibis" - Eric Clapton
"No Alibis"
Eric Clapton


"Hair of the Dog" - Nazareth
"Hair of the Dog"
Nazareth


"Nowhere Man" - The Beatles
"Nowhere Man"
The Beatles


"Nowhere To Run" - Martha Reeves and The Vandellas
"Nowhere To Run"
Martha Reeves and The Vandellas


"One Way Ticket" - George Thorogood and The Destroyers
"One Way Ticket"
George Thorogood and The Destroyers


"Panama" - Van Halen
"Panama"
Van Halen


"Paradise City" - Guns N' Roses
"Paradise City"
Guns N' Roses


"Paranoid" - Black Sabbath
"Paranoid"
Black Sabbath


"Patience" - Guns N' Roses
"Patience"
Guns N' Roses


"Poor Little Fool" - Ricky Nelson
"Poor Little Fool"
Ricky Nelson


"Prisoner Of The Highway" - Ronnie Milsap
"Prisoner Of The Highway"
Ronnie Milsap


"Prisoners Of Rock 'N' Roll" - Neil Young
"Prisoners Of Rock 'N' Roll"
Neil Young


"Refugee" - Tom Petty and the Heartbreakers
"Refugee"
Tom Petty and the Heartbreakers


"Renegade" - Styx
"Renegade"
Styx


"Rock And A Hard Place" - The Rolling Stones
"Rock And A Hard Place"
The Rolling Stones


"Run to the Hills" - Iron Maiden
"Run to the Hills"
Iron Maiden


"Run Like Hell" - Pink Floyd
"Run Like Hell"
Pink Floyd


"Screaming for Vengeance" - Judas Priest
"Screaming for Vengeance"
Judas Priest


"Shot in the Dark" - Ozzy Osbourne
"Shot in the Dark"
Ozzy Osbourne


"Stay Hungry" - Twisted Sister
"Stay Hungry"
Twisted Sister


"Takin' It to the Streets" - The Doobie Brothers
"Takin' It to the Streets"
The Doobie Brothers


"The Party's Over (Hopelessly in Love)" - Journey
"The Party's Over (Hopelessly in Love)"
Journey


"The Race Is On" - Sawyer Brown
"The Race Is On"
Sawyer Brown


"The Pusher" - Steppenwolf
"The Pusher"
Steppenwolf


"The Long Arm Of The Law" - Warren Zevon
"The Long Arm Of The Law"
Warren Zevon


"Star Spangled Banner" - Jimi Hendrix
"Star Spangled Banner"
Jimi Hendrix


"The Secret Of My Success" - Night Ranger
"The Secret Of My Success"
Night Ranger


"They're Coming to Take Me Away, Ha-Haaa!" - Napoleon XIV
"They're Coming to Take Me Away, Ha-Haaa!"
Napoleon XIV


"Time Is On My Side" - The Rolling Stones
"Time Is On My Side"
The Rolling Stones


"Too Old to Rock 'n' Roll: Too Young to Die!" - Jethro Tull
"Too Old to Rock 'n' Roll: Too Young to Die!"
Jethro Tull


"Voodoo Child (Slight Return)" - Jimi Hendrix
"Voodoo Child (Slight Return)"
Jimi Hendrix


"Wait for You" - The Jason Bonham Band
"Wait for You"
The Jason Bonham Band


"My Friend" - Jimi Hendrix
"My Friend"
Jimi Hendrix


"Wanted Dead Or Alive" - Bon Jovi
"Wanted Dead Or Alive"
Bon Jovi


"War Pigs" - Black Sabbath
"War Pigs"
Black Sabbath


"We Didn't Start the Fire" - Billy Joel
"We Didn't Start the Fire"
Billy Joel


"We've Gotta Get out of This Place" - The Animals
"We've Gotta Get out of This Place"
The Animals


"Who Will You Run To" - Heart
"Who Will You Run To"
Heart


"You Send Me" - Sam Cooke
"You Send Me"
Sam Cooke


"You Shook Me All Night Long" - AC/DC
"You Shook Me All Night Long"
AC/DC


"You Hurt Me (And I Hate You)" - Eurythmics
"You Hurt Me (And I Hate You)"
Eurythmics


"You Got Lucky" - Tom Petty and the Heartbreakers
"You Got Lucky"
Tom Petty and the Heartbreakers


"Your Time Is Gonna Come" - Led Zeppelin
"Your Time Is Gonna Come"
Led Zeppelin


"Youth Gone Wild" - Skid Row
"Youth Gone Wild"
Skid Row


"This Means War" - Joan Jett and The Blackhearts
"This Means War"
Joan Jett and The Blackhearts


"Cleanin' Up The Town" - The Bus Boys
"Cleanin' Up the Town"
The Bus Boys


"She Got A Big Posse" - Arabian Prince
"She Got A Big Posse"
Arabian Prince